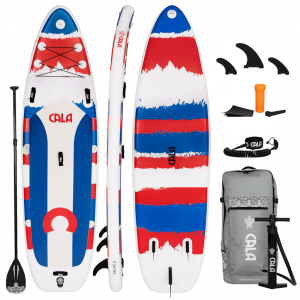 Oceanus is a great board for the bigger adventurer who wants to use this ISUP both in rough waters, rivers, rafting and in calm waters. With the combined features of our All Around, Touring and versatile shapes for these specialties, Oceanus performs amazingly in high volume water flows where smaller boards can get overwhelmed. Also designed to receive strong and hard impacts in river rafting. Take it anywhere and prepare for adventure and unexpected things. The large weight capacity is perfect for overnight camping, long expeditions, or paddling around the lake with extra passengers for the trip.
Included items
Onboard accessories: Rear D ring for leash, GoPro mount, 6-point bungee cord tensor system, D rings for securing accessories, D rings for kayak seat (not included). Two side handles and one central handle
External accessories included:
- Removable SUP central fin.
- 2 removable side fins.
- Carbon fiber paddle.
- Double wheel travel backpack.
- Super Double action Pump, for fast inflation.
- Leash
- Repair kit
Key featured
Construction: HDX AIR System, (Tested safe at 20 PSI, recommended pressure 12 to 15 PSI for optimal performance)

Dimensions: 11 'long by 35 "wide by 6" thick
Weight: Approximately 10.4 Kg.
Capacity: up to 155 kg.