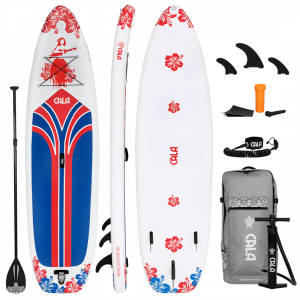 If what you are looking for is a board that is versatile and accommodates both beginners and advanced levels and a variety of climates, look no further. Cala's All Around models will exceed all your needs and expectations. Lakes and seas will be part of your favorite sights. Have fun in small waves and practice more extreme sports if you want, any idea you can imagine can be carried out with this board. With the new redesigned backpack with wheels and anti-tear fabric, you can reach places you never thought of and explore new waters for fun. Alone or accompanied, imagine, travel and enjoy. The highest quality accessories and materials on the market and cutting edge technology have achieved a great deal of international recognition.
Included items
Onboard accessories: Rear D ring for leash, GoPro mount, bungee cord tensor system, D rings for securing accessories.
External accessories included:
- Removable SUP central Fin.
- 2 removable side fins.
- Carbon fiber paddle.
- Double wheel travel backpack.
- Super Double action Pump, for fast inflation.
- Leash
- Repair kit
Key featured
Construction: HDX AIR System, (Tested safe at 20 PSI, recommended pressure 12 to 15 PSI for optimal performance)

Dimensions: 10'8 " long by 32" wide by 6" thick
Weight: Approximately 9.6 Kg.
Weight capacity: up to 125 kg.