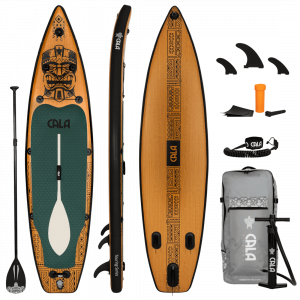 Designed for cruising, endurance training and the open sea. When you are looking for a board that will push your limits and take you to places you didn't think you could go, this is the board for you. Its exclusive design designed to cut any type of swell and to slide faster and with a surface that is close to the water will allow you to do many hours on the board without feeling tired. A rocker developed so that the tip of the board is always out of the water and cuts more waves. Feel free to explore, have fun and experience new ways to enjoy, be it calm or rough waters.
Included items
Onboard accessories: Rear D ring for leash, GoPro mount, 6-point bungee cord tensor system, D rings for securing accessories, D rings for kayak seat (not included).
External accessories included:
- Removable SUP central fin.
- 2 removable side fins.
- Carbon fiber paddle.
- Double wheel travel backpack.
- Super Double action Pump, for fast inflation.
- Leash
- Repair kit
Key featured
Construction: HDX AIR System, (Tested safe at 20 PSI, recommended pressure 12 to 15 PSI for optimal performance)

Dimensions: 11'3 " long by 32" wide by 6" thick
Weight: Approximately 9.2 Kg.
Capacity: up to 135 kg.