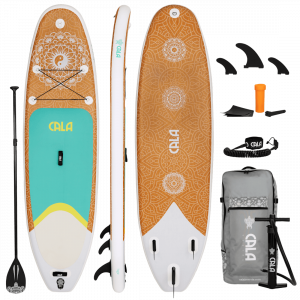 Relax, de-stress and enjoy the incredible benefits of practicing yoga on this special board. People have always come to the water for its tranquility. At first, we found out that people were taking their Cala inflatable SUPs into the water for yoga, Pilates, and stretching, so we created a board specifically for them. It is based on our 10'8 "All Around model, but with an added width that provides greater rigidity and a stable platform, making it perfect for yoga poses and functional exercises. The finishing touch is the embossed EVA cover, which acts as a complete yoga platform with a centerline that helps position you and maintain balance. It is also great for paddleling, so you can go to your perfect spot and relax.  
Included items
Onboard accessories: Rear D ring for leash, GoPro mount, 4-point bungee cord tensor system, D rings for securing accessories.
External accessories included:
- Removable SUP central fin.
- 2 removable side fins.
- Carbon fiber paddle.
- Double wheel travel backpack.
- Super Double action Pump, for fast inflation.
- Leash
- Repair kit
Key featured
Construction: HDX AIR System, (Tested safe at 20 PSI, recommended pressure 12 to 15 PSI for optimal performance)

Dimensions: 10'8 "long by 34 wide by 6" thick
Weight: Approximately 9.8 Kg.
Capacity: up to 140 kg.