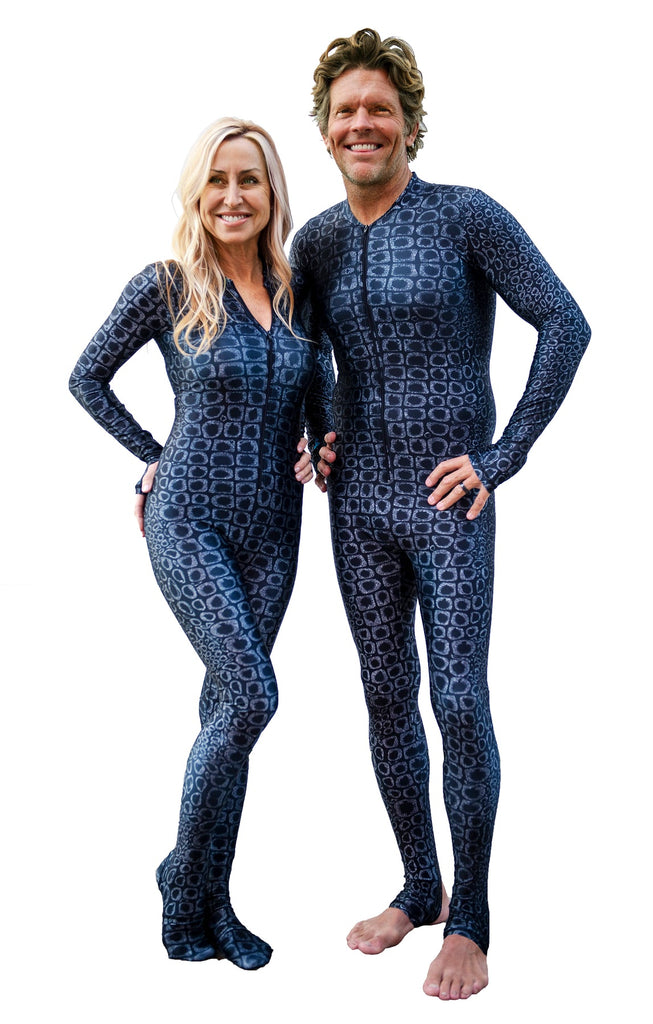 Be prepared for overt attention when you climb into your Spotted Eagle Ray DiveSkin. Looking like this attention getter will put you in the spotlight. This alluring design was inspired by one of the most graphic underwater creatures in the ocean today. When you're in this suit you become an instant head turner. The tight-fitting, 4-way stretch, full-body lycra dive suit is a pleasure to wear under a wetsuit or all by itself. Show off the rich black pattern and stretchy, breathable, fast-drying fabric that's so easy to slip in (and out) of a wetsuit, wet or dry. You'll find your Spotted Eagle Ray DiveSkin helps you appreciate all the wonderful treasures of the ocean.
DiveSkins provide full body sun protection and are perfect for scuba diving, snorkeling, surfing, paddling, free diving, boating, or just looking beautiful in the water. 
Ultimate 50+ UPF sun protection
Blocks 98% of UVA and UVB rays
Long sleeves with thumb holes to protect arms and top of hands
No need to apply and reapply sunscreen
Quick dry, breathable lycra fabric
Excellent 4-way stretch for flattering fit
Uniquely created ocean-inspired patterns
Not see through, wet or dry
Foot stirrups, thumb holes, and front zippers for ease of wear
Protection against fire coral and other abrasive surfaces
Protection from stinging ocean critters
All SlipIns are made in the USA in Southern California
Washing tip: Machine wash, tumble dry
DiveSkins
DiveSkins are designed to fit tightly, but with the Zippered SlipIns styles, torso length and height is important so sizing up may be necessary as with any one piece design. The first time you try it on, it should be tight and a little bit of a struggle. We do this to help support musculature and allow the body to work more efficiently, but mainly so you're looking good, held in at all the right places! Also if you are wearing it under a wetsuit, it is important that it fit like a second skin. They have a thumb hole and foot stirrups, so they stay in place when getting in and out of a wetsuit.
Dive Skins

| SIZE | CHEST (IN) | WAIST (IN) | WEIGHT | HEIGHT |
| --- | --- | --- | --- | --- |
| XS | 29-31 | 24-26 | 100 lbs | 5'3" |
| S | 32-34 | 27-29 | 115 lbs | 5'5" |
| M | 35-37 | 30-32 | 135 lbs | 5'7" |
| L | 38-40 | 33-35 | 160 lbs | 5'9" |
| XL | 41-43 | 36-38 | 190 lbs | 5'11" |
| XXL | 44-46 | 39-41 | 220 lbs | 6'1" |
| 3XL | 47-49 | 42-44 | 250 lbs | 6'3" |
One Piece Zippered Swimsuits
The One Piece Zippered Swimsuits are such a sexy creation. They are a high cut design that stays put. They have medium coverage across the bottom, or can be hiked up for more exposure.  They will not ride up but stay where you put them.  You can size them with confidence using the chart below.  These Sun Protective Swimsuits have become the best choice for sun protective swim wear. Whether lounging around the pool or out on a paddle board or surf board, snorkeling, diving or on a boat or jetski, our 60+ UPF sun protection is the best in the world.  
Every body is different.  It's important to remember that our sizing is adjusted on torso length.  If you have a long torso you may need to size up.  Our fabric has a lot of stretch so it will fit most body types.
One Piece Zippered Swimsuits

| TOP + ONE-PIECE SIZES | DRESS | HEIGHT (A) | BUST (B) |
| --- | --- | --- | --- |
| XS | Size 0-2 | 4'7" + 5'2" tall | 31 - 33 in bust |
| S | Size 4-6 | 5'2" + 5'5" tall | 33 - 34 in bust |
| M | Size 8-10 | 5'5" + 5'7" tall | 35 - 37 in bust |
| L | Size 10-12 | 5'8" + 5'9" tall | 37 - 39 in bust |
| XL *Select Styles | Size 12-14 | 5'9" + tall | 40 - 44 in bust |
Sea Legs Size Chart
Sea Legs Size Chart

| SIZE | WAIST | HIPS | INSEAM |
| --- | --- | --- | --- |
| 4/XS | 25" | 35" | 32" |
| 6/S | 27" | 37" | 32" |
| 8/M | 29" | 39" | 32" |
| 10/L | 31" | 41" | 32" |
| 12/XL | 33" | 42" | 32" |
| 14/XXL | 35" | 45" | 32" |